Lost & found
Did you lost something in the vehicle? Contact the relevant carrier by phone as soon as possible. Forgotten things often appear when you least expect it.
Prague public transport (lines operated by Prague Public Transport Co – metro, tram, almost all urban bus lines, funicular)
If you lost your belongings in Prague Public Transport, please contact the DPP Infoline (+420 296 191 817). The call center will connect with the dispatcher, who will pass the information about the lost item directly to the driver of the specific vehicle and will inform you back.
If you report the loss later, you will receive a telephone number from the worker for the relevant depot or garage where the vehicle in which the item was lost is located. All unclaimed lost and found items are collected at the lost and found office once a week, always on Thursdays.
Lost and found office
Adress: Karolíny Světlé 5, Praha 1 – Staré Město, 110 00
Telephone: +420 224 235 085
Opening hours: Monday 8:00–13:00, Wednesday 13:00–18:00
Suburban tranport and other lines in Prague (lines not operated by Prague Public Transport Co – some urban bus, suburban bus, ferries)
If you left your belongings on buses or ferries operated by private carriers, please contact the specific carrier. The list of PID carrierslinks directly to their contact points. The assignment of a specific carrier to a given line can be found from the timetables or in the case of a ticket issued by the bus driver in its header.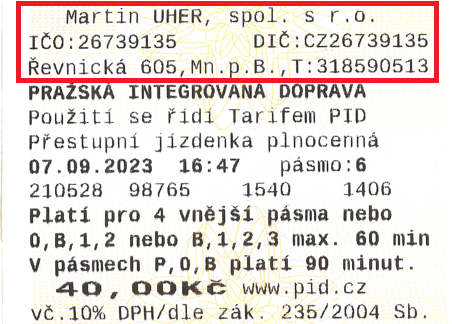 Trains
If you lost your belongings on the train, please contact the specific carrier.
Carrier
Operated lines
Contact
Opening hours
České dráhy
Almost all train lines in PID system
+420 221 111 122
www.cd.cz
Monday to Sunday
00:00 – 23:59
ARRIVA Vlaky
S49, R21, R22, R24, R26
+420 725 100 725
www.arriva.cz
Workdays
Weekends and holidays
05:00 – 23:00
05:30 – 23:00
KŽC Doprava
S34, S43, T1, T3, T7, T8, T10
+420 774 592 018
www.kzc.cz
Workdays
07:00 – 21:00
RegioJet
R23
+420 222 222 221
www.regiojet.cz
Monday to Sunday
06:00 – 23:00
Die Länderbahn
L4, U12, U14
+420 478 479 202
www.laenderbahn.cz
Workdays
Weekends and holidays
05:00 – 17:00
07:00 – 15:00