Subway

The subway is the backbone of transit in Prague. Serving over one million passengers every day, the Prague subway network consists of three lines – A, B and C. Trains run every 2–4 minutes at peak times and every 5–10 minutes at off-peak times and on weekends.
A

Nemocnice Motol – Depo Hostivař

B
Zličín – Černý Most

C
Háje – Letňany

Stations and station maps:
Service times
All subway lines operate from ca. 5:00 AM to ca. 12:00 AM.
Outside service times, a wide network of night trams and buses is available.
At other times it is possible to use an extensive network of night tram and bus lines.
The entire subway network is separated from ground traffic, making it immune to traffic and ground transit service disruptions.
See metro timetables for precise departure times.
Subway operated by the Prague transit company.
Subway map
Park and Ride
At designated stations, Park and Ride parking lots are available.
Accessibility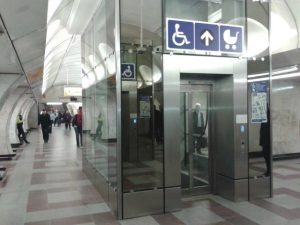 Elevators are available at most subway stations, free and comfortable for use by handicapped people, parents with children and other passengers.