New nostalgic-tourist tram line 23 in Prague since 25th March 2017
Last update: 21. 03. 2017 | Published: 21. 03. 2017 | Print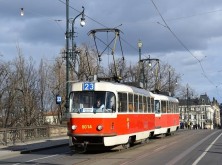 Approximately at 12:00 AM on 25th March 2017 a new tram line number 23 will start operation in Prague. The whole line will be served only by the oldest type of T3 trams, which should also leave all other tram lines on the same date. The line will be operated during the whole year. Its main purpose is firstly to preserve this legendary and very popular type of tram T3 and secondly to lighten the busiest Prague tram line 22 mostly in the section between the city center and the Prague Castle.
New line 23 will be operated on the following route: Zvonařka – I. P. Pavlova – Karlovo náměstí – Národní třída – Národní divadlo – Újezd – Malostranská – Pražský hrad – Pohořelec – Malovanka – Královka.
The range of operation is approximately from 8:30 AM to 7:00 PM with the 30 minute interval. During the main tourist season on the weekends the interval will be shortened to 15 minutes. All regular PID tickets are valid on this line. Timetables can be found at stops or online.