Legible Prague. Experts from around the world will sit on the Jury of an international competition for a new wayfinding system of the Czech capital.
Last update: 16. 07. 2021 | Published: 16. 07. 2021 | Print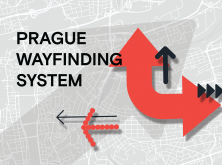 At the end of this summer ROPID (Regional Organizer of Prague Integrated Transport) will announce an international design competition for a new wayfinding system of public transport and the area of the Czech capital, Prague. Together with Czechdesign, an experienced design competition organizer, they now present the Jury board which will decide on the winning design.
Aim of the competition
The aim of this competition is to select a team of experts, which shows capability to create a smart city navigation system fit for all citizens and visitors of the metropolis. The task will be to design a complex solution with emphasis on unity and legibility, which makes it easier for the public to move around the city.
"We realize that the competition results will imprint a new modern face on everything related to urban mobility for decades to come and that is why Prague pays a great deal of attention to this project. We believe that a new wayfinding system for Prague will become a design icon, thanks to which people from around the world will easily get to know our metropolis and we will help them not to get lost in it," adds Petr Tomčík, the director of competition announcer, city organization ROPID.
Competition process
A limited two-stage design competition counts on the participation of both Czech and international teams, who will apply with their portfolios of relevant projects. An international Jury consisting of respected experts will then select competitors who will be invited into the first stage of the competition. Their task in this phase will be to process a complex assignment for the design of an overall information-navigation system concept with a practical typography and colour scale representation  and especially functional principles all presented on various 3D models.
Presented solutions will be anonymously evaluated by the Jury board of which the most successful will be invited into the second stage of the competition. The exact number of participants in both stages will be specified within the competition announcement.
The Jury board and its importance
The Jury will consist of a dependent and independent part represented by 4 to 5 votes. The dependent part represents all the main stakeholders influencing urban mobility in Prague, independent jurors were approached from among leading Czech and global experts not only on graphic design or architecture, but above all on the complex discipline of information and wayfinding design.
"Our experience has proved many times that a well-established team of independent jurors is one of the most important factors in determining the quality and weightiness of the competition. It directly affects not only the process and results of the competition but also the motivation to sign up for potential contestants. We are thrilled that we have been able to connect Czech and foreign experts whose experiences are highly complementary. We believe that the selected jury team will make an important contribution to achieving a quality result of the new Prague wayfinding system," said Jana Vinšová, Director of the Competition Administrator, Czechdesign.
Dependent Jury
The dependent Jury will consist of representatives of  key stakeholders of this emerging unifying system, nominally Ing. et Ing. Petr Tomčík (director of ROPID), Ing. Adam Scheinherr, MSc., Ph.D. (councilor for transport – Prague City Hall), Rostislav Zapletal, Dis. (architecture competitions specialist – Prague Institute of Planning and Development), and MgA. Anna Švarc (architect of the Prague metro line – Prague Public Transit). Both parts of the Jury will have substitutes, who are present during the competition's whole process and may, if needed, accept the function of juror.
Independent Jury
The independent Jury consists of Czech and international experts. Down below we are presenting their experiences and specialization.
doc. Ing. arch. Pavla Melková, Ph.D.
Pavla Melková is a leading Czech architect and urban designer, researcher and theoretician of architecture. The central theme of both her theoretical and practical work is the research of architecture's influence on people and society. She has published many books on this subject and regularly lectures for experts and the public. Pavla promotes public space as a very important part of a city, which is a key element in making citizens feel pleasant. She has been a part of MCA architectonic studio since 1996, which she founded together with doc. ing. arch. Miroslav Cikán. Among her most notable projects is the National Memorial to the Heroes of the Heydrich Terror in Prague, revitalization of the Formalinka park in Nusle or the revitalization of Bastion u Božích muk in Prague, for which she has been awarded, together with her colleague Miroslav Cikán, the Grand Prix price by the Society of Czech Architects. Since 2011 she has been teaching at the Faculty of Architecture in Prague.
As a juror she evaluates the architectonic and urbanistic connection of the wayfinding system with the public space and its effect on a person.
Veronika Egger
Veronika Egger is an Austrian information designer focusing on inclusive design and mobility for more than 20 years. She believes in a collaborative and  multidisciplinary approach to arrive at the best possible solution for everyone. In 1997  she founded her own company is-design which has been a partner in several mobility research projects with a number of papers published on mobility and inclusive information design. Veronika is a Board Member of the International Institute for Information Design (IIID), Life Fellow of the Communication Research Institute (CRI) and she cofounded design for all, an organisation promoting inclusive design in Austria. Among her many projects are environmental and route maps designed for Vienna Public Transport and information and orientation systems for public environments such as universities, hospitals, courts of justice, or historic spaces.
Veronika's role as a juror will be to communicate her collaborative approach to a design process with strong focus on incorporating everyone's abilities to make it easy and enjoyable for people to perceive, access and understand information that matters to them.
Mike Rawlinson
Mike Rawlinson is a design-planner and a founding director of City ID, a specialist design company based in New York and San Francisco, USA and Bristol, UK. He has extensive design management experience working on master planning, transportation, city identity, legibility and wayfinding projects.
He has led the development and delivery of innovative, ground-breaking design projects and strategies in the US, Europe and the UK seeking to improve people's experience of places through the integration of urban design, wayfinding, identity and integrated transportation projects. He led masterplanning, transportation and wayfinding projects in Abu Dhabi, Moscow or New York City. In particular, Mike is credited with developing the Legible Cities movement, pioneered in Bristol and now extending worldwide, that seeks to improve people's experience of places. In 2017, Mike was awarded the prestigious title of Royal Designer for Industry by the Royal Society of Arts for his work on Legible Cities and more widely for improving society's understanding and experience of the built environment.
With his broad expertise his key role in the jury board will be the evaluation of a design process with emphasis on wayfinding solutions that integrate people, movement and places.
doc. MgA. Radek Sidun
Radek Sidun is a graphic designer and typographer. He is a sought-after consultant for font designers and foundries around the world. He founded the Briefcase Type Foundry together with Tomáš Brousil, which distributes Czech authors' fonts. His position of renowned authority is also proven by a number of awards such as a Gold Medal at the European Design Awards 2013, Certificate of Typographic Excellence by Type Directors Club. He worked as a pedagogue at the Type Design and Typography studio of the Prague Academy of Arts, Architecture and Design (UMPRUM) for several years. Since 2019 Radek serves as a Vice-Rector for Communication and International Relations at UMPRUM.
As a juror he evaluates the typographic and graphic elaboration of submitted designs, their legibility, homogeneity of typography and other graphic elements such as pictograms and overall quality of the graphic designs.
Sam Gullam
Sam Gullam is a product designer working within the built environment with expertise in both the requirements of a system and the challenges of introducing physical components to a city that are both functional and appropriate to context. Together with his team from Lacock Gullam Studio, which he founded in 2001, he has been involved with multiple wayfinding projects such as Legible London Wayfinding, a pedestrian wayfinding system for the whole of London, and Bristol Legible City, both international benchmarks and an inspiration for numerous cities in creating their own unique pedestrian wayfinding schemes.
His key role will be to communicate and guard the overall connection between the individual components of the system, making it easily recognizable, with main focus on its ability to provide connected points of engagement that will in turn support the users' formation of a mental map that can aid and encourage them to enjoy the city more comfortably and freely.
The Independent Jury Board Substitutes
prof. doc. Ivan Dlabač, M.A
Ivan Dlabač is a Czech designer focusing on industrial and product design. He applies his technical and technological knowledge, thanks to which he finds wide application in various branches of design. He is the founder and leader of the Divan Design studio, where he works as a technical and production consultant. Ivan Dlabač and his design studio in cooperation with the medical company LINET, are designing transport beds that have become a worldwide icon of the medical environment. There are countless products on which the studio has worked in its 23-year history. From the toothbrush through agricultural machinery to the houses themselves. At the same time, Ivan runs the only industrial design studio at the Prague Academy of Arts, Architecture and Design.
As a juror he evaluates the construction and technological specifics of the 3D design, their manufacturability and sustainability, their use and their fit in urban space.
Filip Blažek
Filip Blažek focuses on graphic design with a specialization for typography. He regularly contributes to professional periodicals and he is also the author of the Typobook and co-author of the book Practical Typography. He is also a co-founder and member of the editorial board of the Typo magazine, which deals with typography, graphic design and visual communication. He operates Typo.cz, a web portal dedicated to Czech and world graphic design. Since 1999 he has been lecturing for the professional public on the topic of typography and corporate identity. One of his successful projects is, for example, the 365 typo project. He currently teaches at the Academy of Arts, Architecture and Design in Prague and at ARCHIP.
As a juror he will be focusing on typographic elaboration of submitted designs, their functionality, legibility and successful implementation on every output in every size or material.
Important dates
The competition will be announced at the end of August 2021 through the Public Procurement Bulletin and the Tenders Electronic Daily of the Official Journal of the European Union. The competition notice will also be published on the profile of the Announcer, Czechdesign magazine as well as leading Czech and foreign architectural and design portals. The submission of competitive bids will be required via the online portal tenderarena.cz. The competition will run until the end of this year, results will be approved by the Prague city council and their announcement is planned for January 2022.
Competition organizer
The competition is administered by Czechdesign, a professional organization working in the design field for 20 years connecting both the public and the private sector with designers. It is a leading and most experienced design competitions organizer in the Czech Republic, actively asserting the fair conditions of tenders in the field. Czechdesign is running the most-read Czech web portal on design www.czechdesign.cz as well.